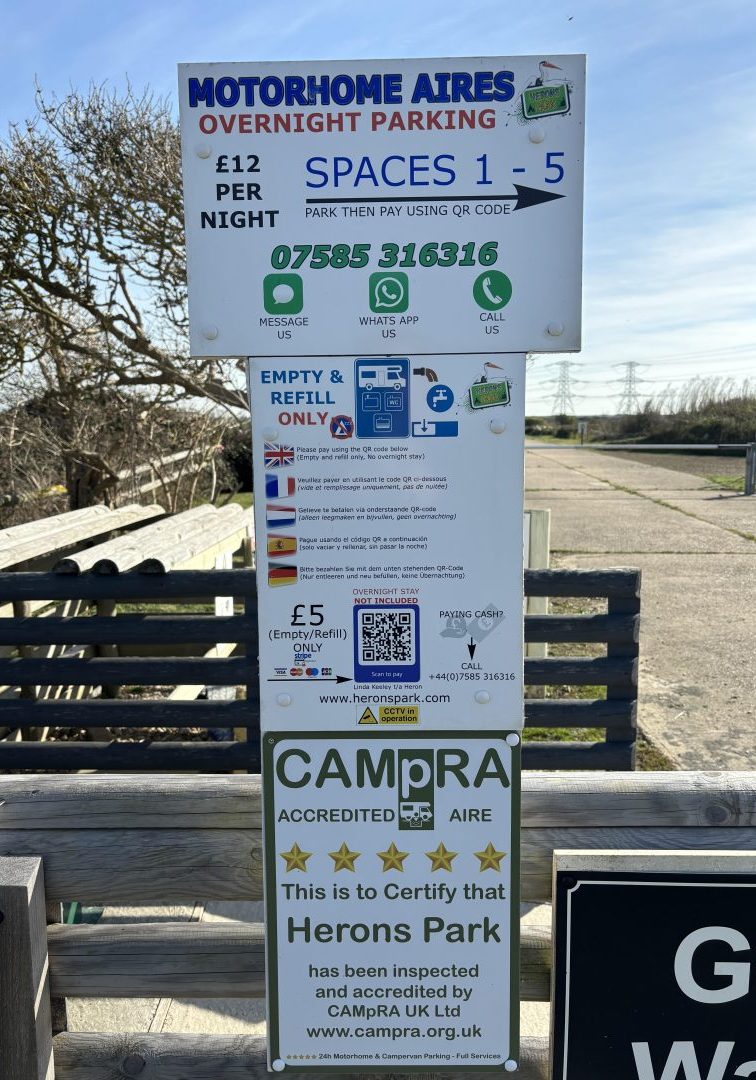 Motorhome/Campervan Overnight Stopover
Aires translates to 'area' in French, which is used to describe an area designed for overnight motorhome/campervan parking to provide access to essential services such as fresh water and waste disposal.
You
do not
need to book an Aires, please follow the following steps.
Arrive at Herons Park and go past the main camping field. You will see a car park behind the main building with 5 signs located at the back in front of the grassed bank. Park in front of one of these signs and make payment of £12 via the QR code or alternatively click here
to make payment.
The price also includes water and waste disposal. This is a self check in service, although we will be notified of your arrival and payment. We do offer waste disposal and refill of water only at £5 should you not need to stop over. You can find this payment QR code on the sign located next to the chemical waste disposal. Alternatively please pay here.
Rules/T&C's
Overnight stopovers only. No setting up 'camp' such as using awnings etc.

Dogs are permitted on site but must be kept on a lead within the carpark/roads and picked up after, there is an 'off the lead' area behind the bank/barrier.

This is a residential site so please be considerate of our residents (noise etc).

Maximum of 28 nights per stay.

You are parking and using facilities at your own risk.

CCTV is in operation around site.

No access to the residential area is permitted.
Staying between April and September? Book onto our campsite for access to all facilities.
Contact Herons Park for any enquiry about our residential mobile homes, camping or our onsite facilities. You can contact us via the form below or directly by telephone or email.
For more information please contact us:
Residential
Tel: 01797 329219
Email: residential@heronspark.com
Camping
Tel: 07585 316316
Email: camping@heronspark.com
Venue Hire
Tel: 07949 156636
Email: weddings@heronspark.com
General Enquiries
Email: heron@heronspark.com
Address
Herons Park, Dengemarsh Road, Lydd, Romney Marsh, Kent TN29 9JH