WELCOME TO HERONS PARK CAMPING
---
Every season we look forward to welcoming returning and new guests. The season runs from April till the end of September.
Our spacious field has 30 electric hook up pitches and 22 non electric pitches. All pitches can accommodate tents, tourers and motorhomes. We have a playpark which opened in 2022 for the children and also a ball area complete with 2 goals. Fancy hiring the whole field exclusively for a special event or meet? Check our private hire page for more information. Everything you need to know should be found on this page. If not, then drop us a message and we will answer any questions you have.
Aire now available throughout year
Herons Park is now available for overnight stops throughout the year. No need to pre book, you are able to arrive and scan a QR code to make payment of £12 at any time, within the price you can empty, refill with water and dispose of your rubbish. Just need to empty and refill? No problem! There is a QR code for a £5 payment next to the waste area. Our allocated spaces and waste area are found just behind the main building past the kart track. See a picture by clicking here.
SINGLE PERSON TENT AREA
£12
1 PERSON AND TENT
NO CARS
NO ELECTRIC
NON ELECTRIC
PITCH
£22
2 PERSON AND TENT
NO ELECTRIC
1 VEHICLE PER PITCH
ELECTRIC HOOK UP PITCH
£27
ELECTRIC POINT
1 VEHICLE PER PITCH
PERIMETER PITCHES ARE 8M x 10M INTERIOR PITCHES ARE 8M x 10M
ADDITIONAL CHILD PER NIGHT
£3.50
ADDITIONAL ADULT PER NIGHT
£6.00
ADDITIONAL DOG PER NIGHT
£3.00
WE ALLOW A MAXIMUM OF 4 ADULTS PER PITCH, 1 TENT AND ONE MOTOR VEHICLE
If your vehicle is unable to fit in your pitch due to the size of your tent/van/awning, you will be required to park your vehicle in the carpark for a fee of £3.50 per night.
Check in is from 2pm and check out is 12 midday. No arrivals will be permitted on the field after dusk. If you encounter delays on your journey, please call to inform us of your late arrival.
ADDITIONAL IMPORTANT INFORMATION
Please note that the camping field is located next to a Kart circuit. Unless there is an event taking place this is rarely noisy and to a majority of campers causes no nuisance. 
Additionally we have a venue on site which holds private events throughout the season. Although music generally doesn't exceed midnight, the license is until 2am so on rare occasions music will be played until then. Again this has caused little to no nuisance to previous camping guests. We respect campers may be sleeping and aim to keep doors shut at all times so the music doesn't travel onto the field. 
Please note that the venue is also used for weddings, we ask that all camping guests are respectful of this and allow the bride and groom privacy on their special day.
The map below shows the layout of all our pitches and amenities. Please note this is not to scale and the interior pitches do not match the location positioned on the map. The field is also fully grassed, the beige areas indicate the paths for cars/guests and are not roads.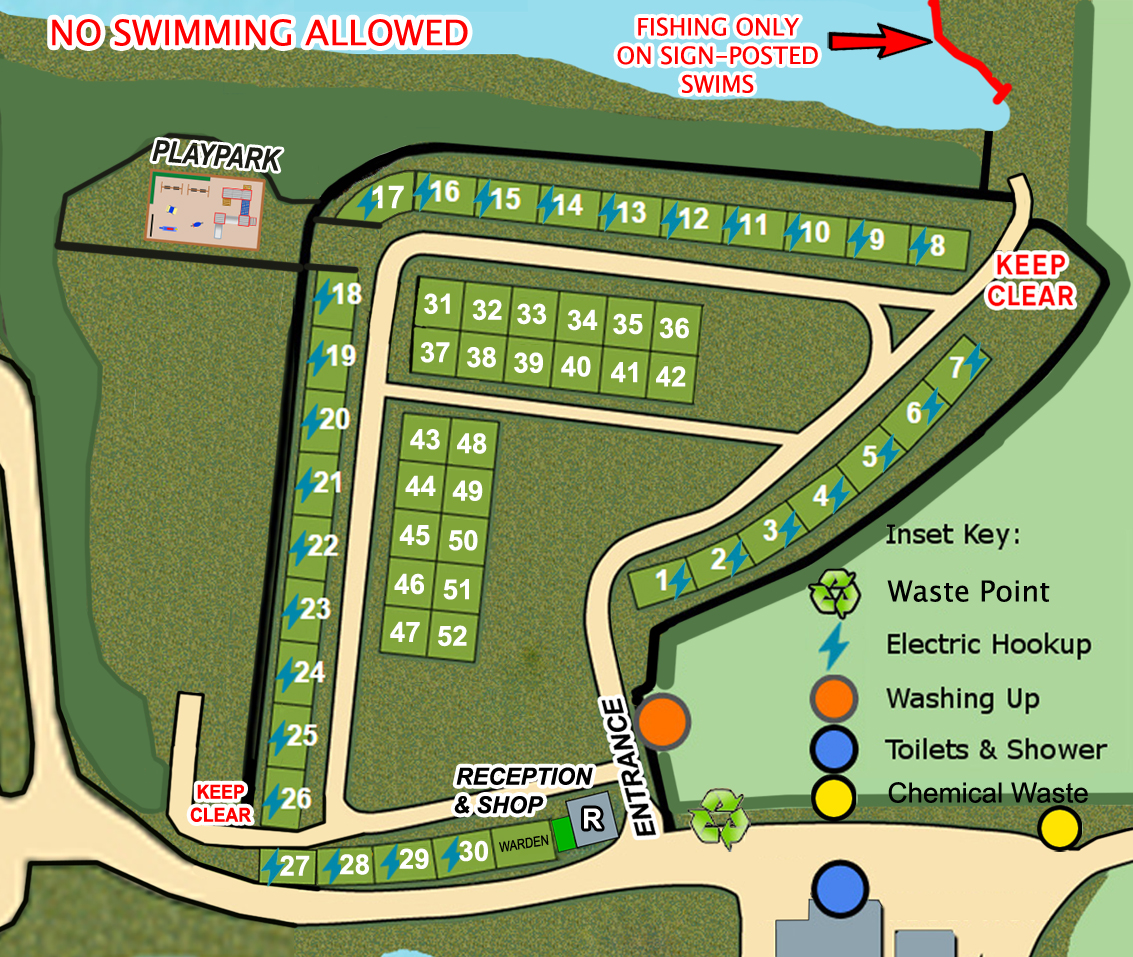 Contact Herons Park for any enquiry about our residential mobile homes, camping or our onsite facilities. You can contact us via the form below or directly by telephone or email.
For more information please contact us:
Camping
Tel: 07585 316316
Email: camping@heronspark.com
Residential
Tel: 01797 329219
Email: residential@heronspark.com
Venue Hire
Tel: 07949 156636
Email: weddings@heronspark.com
General Enquiries
Email: heron@heronspark.com
Address
Herons Park, Dengemarsh Road, Lydd, Romney Marsh, Kent TN29 9JH