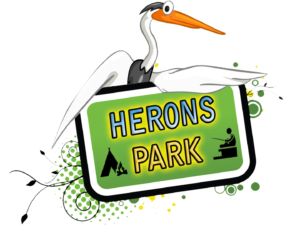 Herons Park Camping Site Rules
The Rules are in place to ensure public safety and to make your stay enjoyable, please enjoy your stay!
General: Check in is from 2pm-8pm, you must check out before 12 midday.
Only one unit and one vehicle is permitted per pitch. A unit can be any of the following - Tent, Trailer tent, Roof tent, Campervan, Caravan or motorhome.
A maximum of 4 adults per pitch is permitted.
A pup tent is allowed subject to prior booking.
Gazebos are permitted providing the appropriate space is adhered to between units for fire regulations and is positioned within your pitch.
You must keep within your pitch, if you require extra space you are able to purchase a ticket from reception to park your vehicle in the carpark.
Pitches must be left clean and tidy.
Electric hook ups are not permitted to be used to charge Electric Cars.
Noise: Please be aware that this is a family campsite and our busy season can see the field full of families and large groups with young children. We allow personal music to be played but please keep this genre of music appropriate for all ages and to keep it at a low volume as not to disturb others. We ask all of our campers to be considerate of others and reduce noise levels at appropriate times, these times are 23:00-08:00.
Dogs: We allow well behaved, non aggressive dogs but ask that they are kept away from the fishing lakes and of course that owners clean up any mess they might make.  There is a dog walk area behind the main building, please feel free to use this area to let your dog off the lead, Dogs must remain on leads on your pitch at all times and not wander the field unattended.
Fishing Lake: During the daylight hours, campers are welcome to walk around the fishing lake behind the camping field, but swimming and creating noise will not be tolerated. Access to the lake during night time hours is strictly prohibited. A fishing pass must be purchased from reception and proof of a valid rod license must be presented. No night fishing by campers. 
Site Safety: Please stay off the grassed banks and stay within fenced/permitted areas, do not climb over fences there are hidden hazards and we wouldn't want you to get hurt. 
Vehicles are not to enter the field after 9pm and must adhere to the field speed of 5mph and 10mph on the entrance road. 
Campfires: Please ask for blocks if your BBQ does not come with a stand this is so the grass isn't damaged.  Only off the ground fire pits may be used, these are available from the shop/reception to hire, wood and kindling bags are also for sale on site. Ash must be cold prior to emptying in the ash bin located by the general waste. All hired fire pits must be returned to the reception emptied prior to check out, if still hot please leave on your pitch and inform a member of staff. Place sources of heat 3m away from your tent.
Play Park: The Play Park is open 8am - dusk. Children under the age of 7 must be accompanied by an adult. Play Park equipment must be used by the appropriate age group and is used at own risk.
Karters/Bikers: No karting/biking gazebos are permitted on the field. This leads to mechanical work to take place and this is strictly prohibited. We allow karts/bikes stored on your pitch for security purposes only. 
Generators are not permitted.
GROUP BOOKINGS 
Bookings with 3 or more pitches may incur a £30 per pitch refundable deposit. This is to ensure groups respect our quiet hours and leave their pitch un-damaged.
Management reserve the right to refuse admission or if the rules are not abided by we will ask you to leave- without refund.
By booking camping at Herons Park you have agreed to the rules above.